The Pitch
The enclave city of Westmount has witnessed a nightlife boom over the last half decade, from casual eateries such as Bacaro and Gentile to fine dining establishments spearheaded by PARK and Central.
Then there's Greene Avenue's Chez Nick, a restaurant as old as the early-twentieth-century building housing it. As a Westmount – or adjacent – resident for most of the past twenty years, I must have walked past this fixture countless times, but somehow never gave it a chance until this Tuesday morning.
tagged: EARLY BIRD
The Mood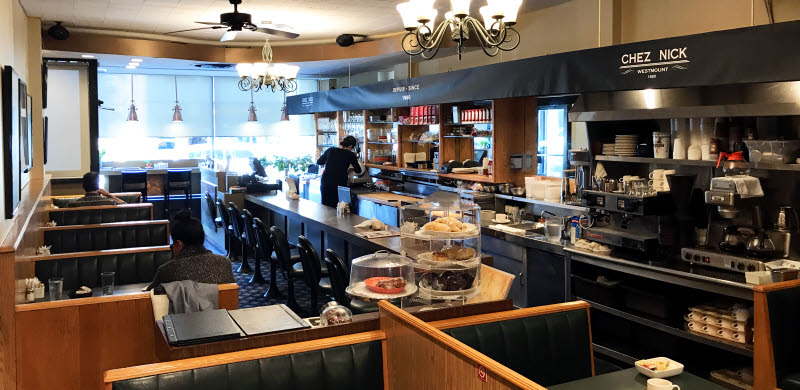 A 1920s diner has naturally gone through several updates over the course of its life, the latest of which reminds us of the iconic Twin Peaks Double R Diner with its wood paneling and matching booths.
A small, male Anglo crowd occupied a handful of tables and bar stools, no doubt grabbing breakfast on the way to work. Staff and patrons – probably regulars – were exchanging pleasantries, reinforcing that neighborly feel typical of family-owned businesses.
tagged: ANGLO CROWD CHATTERBOX CORNER
The Food
The breakfast menu – served all day – sticks to diner classics; eggs, bacon, pancakes, french toast and homefries come in all permutations. The offering is rudimentary and bare-boned, which is acceptable given the nature of the place and meager prices.
$8.75
$8.75

French Toast & Sausages
$10
$10

"Omelet Style" Breakfast Burger
The Service
Our middle-aged waitress – who seemed to know other customers by name – was quick to seat us and take our orders in. Coffee and plates were brought in no time; so don't worry about missing that early-morning meeting after breakfast – lest you need to rely on the chronically-behind STM schedules!
tagged: IN & OUT
The Verdict
Trendy, Instagram-worthy spots may come and go; but there will always be room for an old-school diner so entrenched in its community. Three years from now, Chez Nick will be celebrating one hundred years of serving Westmounters breakfast, dinner and everything in between.
As for our verdict, we will likely require a return visit to arrive at one. For now, let us just say Nick's no-frills, no-nonsense breakfast fare won't knock your socks off, but it will set you off for the day.
tagged: DESERVES A RETRY
Price per person: $10.70
Chez Nick
1377 Greene Avenue
H3Z 2A5
514-935-0946
cheznick.ca