The Pitch
Monday nights are made for quick bites. Yes, several finer establishments now open their doors on this once-forsaken weekday. But, to be honest, we're not fans of empty dining rooms when we're plunking down big bucks. So we decided to take it easy and satisfy some chicken craving at Coco Rico on St-Laurent, a place we're familiar with as a take-out option, but never actually sat at prior to tonight.
tagged: OPEN ON MONDAY
The Mood
Coco Rico, Montreal's first Portuguese rotisserie, has been around since the 70s, and it shows. The layout features a take-out display on one side and a counter with a dozen or so stools against the opposite wall.
The Food
Rotisserie chicken and barbecued spare ribs are the focus here. You can add a little kick by asking for their signature spicy rub. Otherwise, there are a couple sides such as potatoes that are roasted alongside the bird, coleslaw, macaroni salad or bread.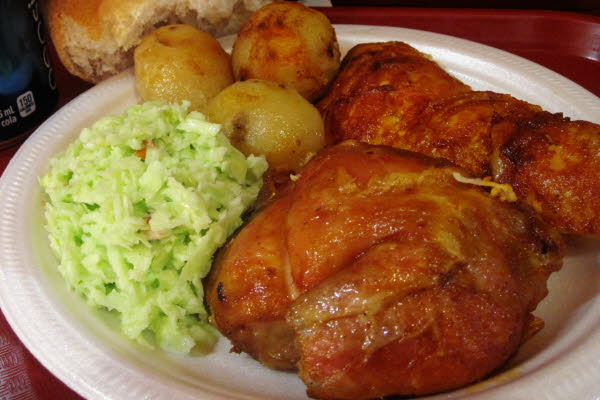 Rotisserie Chicken
"side of BBQ potatoes, creamy coleslaw & bread". The chicken was, as usual, very flavourful from the lemony paprika rub/sauce used while cooking. Its skin was crispy and the potatoes roasted in chicken juices were rich. The HUGE negative was that the white meat was well on the dry side and the bread felt very stale.
tagged: BUDGET-FRIENDLY
The Service
The people at Coco Rico will welcome you with a smile and do their best to make you leave with one too. Tonight, however, we were a little put off by the cashier's unwillingness to rectify a mistake, of which we bear some fault as well. We forgot to mention that we'd be eating in, so everything was wrapped up for take out, but she made no effort to unwrap or put anything out for us on plates after we told her.
tagged: DO YOU MIND?
The Verdict
We realize Coco Rico's chicken has been voted "best chicken" in town several times in the past. While we do enjoy it normally, tonight it fell short of such high praise. We're giving Coco Rico a "Plan B" verdict mostly because of the stale bread and dry-ish chicken (not the first time we experience this), but we still think it's a solid option when you don't feel like cooking, especially considering how little you're paying.
tagged: PLAN B.
Price per person: $11.77
Coco Rico
3907 Boulevard Saint-Laurent
H2W 1X9
514-849-5554