The Pitch
We're big fans of Osheaga, the city's annual music festival that keeps getting bigger each year. We decided to make a review out of it upon hearing that the likes of Grumman 78, Nouveau Palais and other innovative food trucks were taking part this year.
The Mood
Rain dominated the atmosphere Sunday, Osheaga's third and last day. But don't be fooled, the crowd wasn't about to let anything stop it from having a blast. Even the bands playing mentioned repeatedly how they were amazed by the turnout and party atmosphere that reigned under the heavy downpour.
tagged: PAAARTAY!
The Food
The food selection definitely took a step up this year compared to prior years. In addition to the generic stuff you would expect at a festival (hot dogs and fries), also present were the city's new and creative street food trucks. Those were all parked around the Scène Verte, so naturally this is where we spent most of the evening, pigging out in between performances by Bloc Party and M83.
$5.75
$5.75

Burger Fromage from Nouveau Palais Winneburger
Yes, we know, we just reviewed this burger last week at Le Souk Gastronomique. But you know what? It's one hell of a good burger! No kidding! It was even better assembled this time, although we noticed it also went up in price by $1 (are music fans richer than comedy fans? Lol).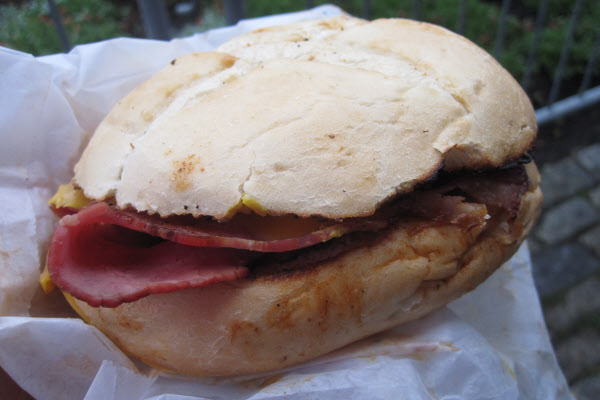 $6.50
$6.50

Sandwich Pastrami et Fromage Fondu from La Petite Gourmette
Thick pastrami slices, pickles, (what tasted like) cheap processed cheese and yellow mustard in a large Kaiser loaf. Very ordinary, definitely not something that a place with the word "gourmet" in its name should be proud of. At least it was big and filling.
$7
$7

Boeuf Ancho Taco from Grumman 78
I was really looking forward to this taco, after the one I had last week at Le Souk. Beef cubes, guacamole, sour cream and black beans. Unfortunately, this was a miss. To start with, it was impossible to eat, as loads of the filling were spilling all over the place. Next, the beef was a little dry and hard. Finally, the lime wedge on the side was also dry.
The Service
Let us put the festival's overall organization on the side, because in that respect, I would fire the entire "crowd control" committee (how are thousands of people supposed to navigate from one stage to another on a foot bridge not even 15-foot wide?). For the food part, there were long line-ups at most stands/trucks, but that is to be expected, especially given that the festival broke its own attendance record and actually sold out for the first time in its history.
tagged: SOMETIME TODAY PLEASE
The Verdict
Despite the negative reviews we gave a couple of the food items we tried, we still think the overall experience was a success. This is a festival, mind you, so one's standards need to fit the context as a result. What we had was definitely miles above the typical overpriced and greasy grub you would expect. We are looking forward to next year's edition!
tagged: SOLID
Price per person: $12.83
Grumman 78 Truck
Closed
514-290-5125
grumman78.com