Disclaimer: Our friends over at the Sofitel Montreal were kind enough to invite us back to this gastronomic event for the third straight year. We finally decided to write about it this time around; it only seemed right given the evening's charitable nature.
The Pitch
Our city is not particularly known for its hotel restaurants. None of them appear on "best of" lists save for the Ritz's Maison Boulud and the Queen Elizabeth's brunches perhaps. A notable exception is the Sofitel's Renoir, a versatile restaurant that draws locals (ourselves included) and hotel guests to its upscale breakfasts, brunches and thematic events (such as the Vietnamese dinner we reviewed in 2013).
Another recurring affair is Renoir en Rose, the brainchild of executive chef Eric Perret. Now in its third year, the charity dinner has Olivier along with guest chefs create a tasting menu paired with wine preceded by hors d'oeuvres and champagne. Tickets go for $290 per person; beneficiaries are the Quebec Breast Cancer and Cedars Cancer foundations.
tagged: SPREAD THE WEALTH
The Mood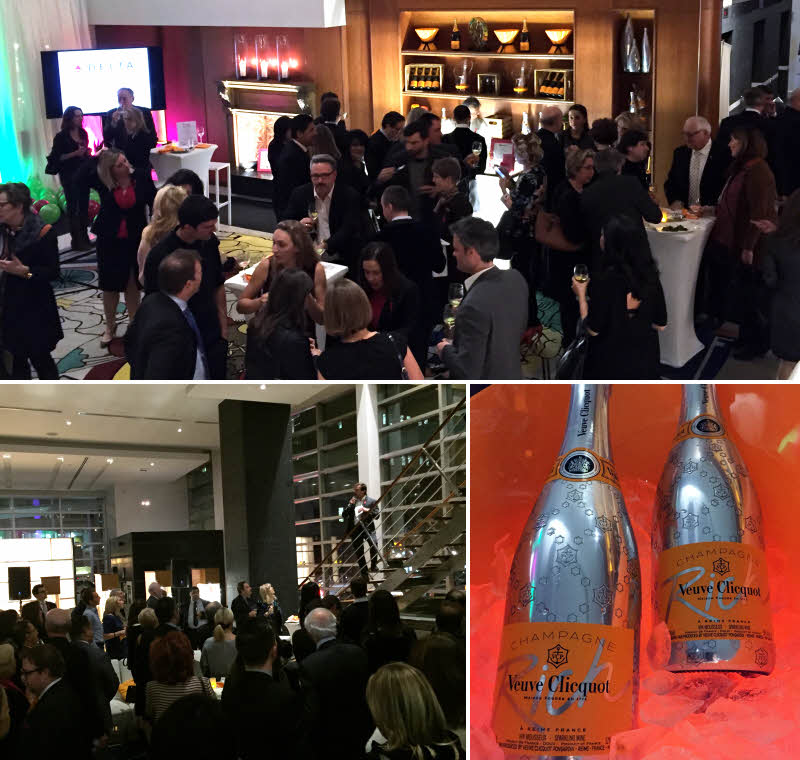 Young and old came out looking their best and got started in the hotel lobby where hors d'oeuvres were served alongside cocktails made with the newish, sweet Veuve Clicquot Rich champagne. From there the party proceeded to the posh dining room where multiple raffles and auctions kept diners entertained, while the see-through kitchen gave a glimpse of the brigade of chefs working their magic.
tagged: DUDE, DRESS UP
The Food
As expected, the five-course meal consisted of small, sophisticated plates anchored on nouvelle French cuisine, with each chef adding a touch along his or her specialty. Those hailed from restaurants as close as the Plateau's Laloux to as far as Val-David's La Table des Gourmets and New York's own Sofitel. Wine pairings consisted of different grapes from Argentina's Terrazas de los Andes winery.
tagged: TASTING MENU
The Verdict
As regular attendees of Renoir en Rose, we have seen this classy event mature and evolve. And while the first edition may have counted chefs with more "star power", we thought tonight's menu felt more cohesive and worked better as a whole. In the event that the soiree returns next year, we invite you to check it out for yourselves. Between chef Perret's passion towards this cause, the culinary talent on display, the sumptuous food and prizes to win, we guarantee your money will be well spent.
Price per person: $290
Renoir
1155 Rue Sherbrooke Ouest
H3A 1S2
514-285-9000
restaurant-renoir.com