The Pitch
Readers of this blog may notice that I have recently been splurging on takeout. The last three reviews have all exceeded the $100-mark for my wife and myself. Call it "confinement fatigue" if you may; with restaurants not opening for onsite dining anytime soon, I figured I could check off some entries from my "to try" list.
An example of this which I have been putting off for no good reason – although I grabbed a drink there once – is the reputable Tuck Shop. Open since 2010, this Saint-Henri occupant has silently won hearts while spearheading the neighborhood's red-hot dining boom.
The Food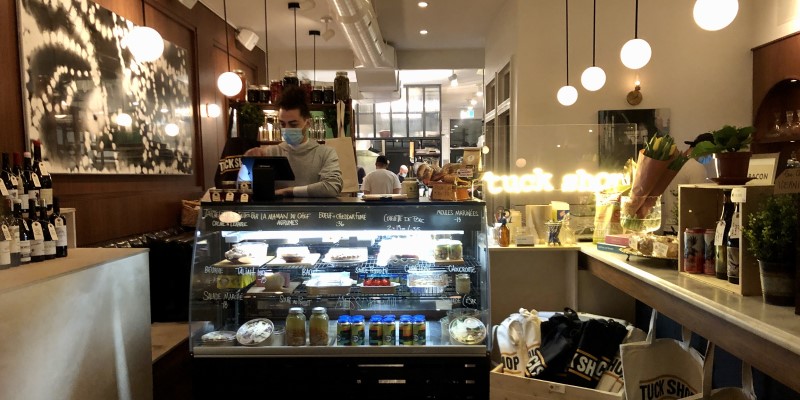 A quick Google glance taught me that a "tuck shop" is an old British term for a snack dispensary; a candy-and-chips dépanneur of sorts. The name is fitting for what Tuck Shop is doing during the lockdown. The interior has been refitted with a display counter and shelves carrying wines, pantry items and branded merchandise.
Casual, to-go lunches consisting of salads and sandwiches are also available. As for dinner, same-day takeout orders can be placed to sample the restaurant's refined seasonal fare – which, incidentally, is served in the most solid and luxurious golden containers I have ever seen!
The Verdict
For a neighborhood chock-full of excellent eateries, Tuck Shop stands out as one of Saint-Henri's most refined options and is an integral part of the Sud-Ouest borough. The marketplace setup, impeccable market-driven food and that lamb(!) make it my top pandemic-era pick and land it on my current-crush list.
This was my best meal of 2021 so far, and I feel it will be hard to beat…
tagged: SOLID
Price per person: $52
Tuck Shop
4662 Notre-Dame Street West
H4C 1S7
514-439-7432
tuckshop.ca